Details

Hits: 9356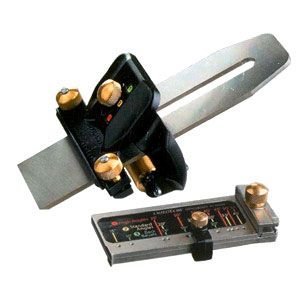 Working with sharp tool blades is a MUST in the workshop. Not only is is safer, it is much easier on the woodworker who not only doesn't have to work so hard, but it also makes woodworking much more fun. There is nothing more frustrating than trying to plane a board, or carve out a mortise when you have a dull tool.
Sometimes we think our tool or blade is sharp but really it isn't. When you take a blade that you thought was sharp, then really sharpen it, you will not believe the difference in how easy it cuts and how much less work it is. For years I struggled with what I thought were plane blades that were - sharp enough - . I knew they weren't the sharpest, but I never bothered to take the time to sharpen them properly and always assumed that they were ok.
One day, while visiting another woodworker, who had just sharpened his plane blade, I asked him if I could try it out. I was completely astounded what a difference a really sharp blade was like. It wasn't long after I encountered a more mature woodworker, who I knew was an expert in sharpening, and asked him if he would sharpen my blades for me ... and I would pay him. A week later he called to have me come and pick up the blades and while I was at his shop, I asked if he would give be a lesson in how I could get good results, with the least fuss, and this is what this video is about.
What he showed me is the same thing I am going to show here, what I think is one of the easiest and cost effective ways of sharpening chisel and plane blades and similar blades. This is the best way that works for me, but other people will have many other ways that are also just as good and maybe even easier and I am confident they will all be sharing their expertise with us. There are MANY MANY different ways to sharpen chisels and plane blades, and some people make a real art out of sharpening. It becomes - their thing - in woodworking, and so this article details what I learned that afternoon. The first thing you need to do is ...