Most Requested Topics
Special Deals
Free Woodwork Ebooks
Login Form
RSS Feed
Woodworking Tools
Details

Created on Wednesday, 13 July 2011 04:55
Last Updated on Saturday, 13 April 2013 07:38
Written by Colin
Hits: 2794
Every tool manufacture gets back broken or defective tools. Sometimes they are deficient in manufacture, other times customer s actually break them ( often but claim otherwise), regardless of the reason, tools break and very often manufacturers take them back.
So, what do they do with these tools you ask? Well, some are destroyed, others used as parts and others still are refurbished for re-sale. In the industry they are called "refurbs", and they are often retailed at 30% - 50% less than new-in-box (NIB) tools. Depending on the manufacturer and the tool, there may or may not be a warranty with the tool and if there is it may or may not be the same as the NIB tool.
The real question for most woodworkers is "are these tools worth purchasing"?, and the quick answer is yes they are, but there are a few things to watch for.
Some refurbs come in brown packaging while others come in what looks like new original boxes. Either way, they are still refurbs and there are 5 important things to look for, such as ...
1 – Most important – is the tool a brand name, well recognized tool brand or is it knock-off or lower quality made tool. If the tool is a brand name tool, like Makita, Milwaukee, DeWalt, Delta, Ridgid and so on, it is probably a good buy. Walk away from brand names that look and feel cheap and are names that you don't recognize, unless you are willing to risk your investment.
Details

Created on Wednesday, 11 May 2011 18:41
Last Updated on Saturday, 13 April 2013 07:38
Written by Administrator
Hits: 2704
The table saw is one of the most important tools in your workshop but in order for it to run smoothly and efficiently, some follow-up maintenance is required. The steps below instruct and detail how to keep your table saw cutting smoothly and safely.
When is a table saw tune up required?
Your table saw will normally provide some helpful indications guiding you on just what adjustments need to be made, and how soon. If the blade cuts straight but at the very end, breaks off more stock than required, this will be accompanied by a ringing sound (as it straightens after deflection). Another sign: if the saw blade is not perfectly parallel to the fence, there will be burn marks on the wood. However, with this last sign you need to be careful since cutting too slowly will also cause burning.
Details

Created on Tuesday, 12 April 2011 16:34
Last Updated on Saturday, 13 April 2013 07:38
Written by Colin
Hits: 4759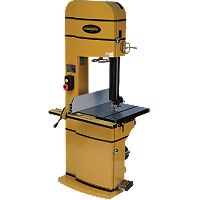 Band saws are one of the safer woodworking tools and because they are so versatile, they are also one of the most popular tools. A band saw can make cross cuts as well as ripping cuts and of course all sorts of round and semi round cuts. And one of the most popular uses of band saws is in cutting thin strips of wood or veneers, that are used to enhance many woodworking projects.
But band saws have one inherent problem, and that problem is that most of them will tend to "drift" when they are cutting through wood. What this means is that if you are ripping a piece of wood, and following a marked line, there is a very good chance your band saw will develop a mind of it's own and start cutting off that line. This drift is caused by a variety of elements like the grain of the wood, they type band saw blade you are using (and how sharp it is), the tension on the blade and even whether or not the blade is running true on the 2 band saw wheels. It is often possible to reduce drift but in most cases you have to learn which way your band saw will drift and take that into account when you are cutting wood.
Another inherent feature of all band saws, particularly when they are ripping wood, is that at the beginning of the cut the saw will cut quickly but as it is cutting through the wood the speed at which the wood is cut is noticeably slowed. Again this is typical of almost every band saw, small or large, so if you find this happening with your saw ... it is not "your saw" it is all saws that have this quirk.
Setting up a band saw is an important step in order to get the best cuts and help preserve the life of your blades and your saw. It is important that power to the saw be turned off before any setup is attempted. The first step is to set the BLADE TENSION, which, on most 2 wheel band saws is done by RAISING the top wheel with the appropriate adjustment knob or wheel on your band saw ....
Details

Created on Monday, 07 March 2011 05:32
Last Updated on Saturday, 13 April 2013 07:38
Written by Colin
Hits: 1634
There is nothing worse than trying to drill through something ... and you just know that your drill bit is dull, because you are having to push too hard, and you know your drill bit is heating up and losing what sharpness it had, along with its steel temper. For me, this usually happens with smaller bits. For some reason my 1/4" bit gets the most use.
Most of the time I am drilling into wood, but once in a while I need to drill though some thicker and harder steels, sometimes even stainless steel, which is VERY hard to drill through. These are the times that I need a sharp drill, and as usual, I never have them. Oh sure I can run down to the hardware store and pick up another drill bit for only a few dollars, but for me, the closes hardware store is about 20 minutes away ... each way. Add a cup of coffee into the equation and I can easily be gone for an hour and an half, after all ... I AM going to a hardware store. No self-respecting woodworker goes into any hardware store, buys a drill bit and leaves.
A few weeks ago I finally decided that between the frustration of always seeming to have dull drill bits and the time it takes to go and get one or two replaced, now was the time invest in a tool that would save me time and frustration.
To be honest, the Drill Doctor 350x is not a deluxe tool. If you want a drill bit sharpening tool that does much more, the Drill Doctor DDSB version might be a better choice for you. The 350X only sharpens bits from 3/32" up to 1/2", but for me this is perfect. The tool is easy to use, doesn't take up much room and I can sharpen up a bit in a couple of minutes (or less). I must say, of all the sharpening tools I have, this simple little tool is one of my favorites
Details

Created on Sunday, 06 March 2011 05:11
Last Updated on Saturday, 13 April 2013 07:38
Written by Colin
Hits: 2384
Every woodworker would love to make dovetail joints when they are making drawers, boxes and other similar joints.Dovetail joints look great, are solid and are a sign that a woodworker has dedicated some special skills to their woodworking project. Unfortunately, despite the fact that we see some sort of article every month in one of the woodworking magazines, dovetails are STILL seldom used. WHY IS THAT? The woodworking magazines have described in detail every possible jig for making dovetails on the router, on the tablesaw, hand cut dovetails and even dovetails cut with the CNC router. SO WHY ARE DOVETAILS SELDOM USED? 
Well I'll tell you why, because its either
   A) To expensive to purchase a decent jig to cut dovetails with
   B) To time consuming to practice and practice until you are good at hand cutting them
   C) Don't want to spend the time making the jig for the tablesaw
   D) Don't own a CNC machine
Well folks FINALLY .... there is hope. I knew this would happen eventually (woodworkers are such innovative people) Yes, someone has finally invented a dovetail jig for use with a router (using a table or without using a router table) AN AFFORDABLE jig, and one that is not complicated and difficult to understand.
The E-Z Pro Dovetail jig is just as the title says, easy to use and very non-complicated. You can choose to use or narrow boards to make your dovetails on, and this little jig will still accommodate them.
CLICK READ MORE BELOW FOR MORE DETAILS
Details

Created on Wednesday, 02 March 2011 06:07
Last Updated on Saturday, 13 April 2013 07:38
Written by Administrator
Hits: 10399
The Rockler Shark Pro and the Carvewright/Compucarve CNC Router Wood Carving machines are the two machines targeted at the mass market entry-level woodworking users, so it's only fair to see how the two rack up against each other with regards to carving area, work piece size, cutting system, machinable materials and software.
| | |
| --- | --- |
| | |
| Rockler Shark Pro CNC Router | Carvewright CNC Router |
Carving Area
Carving area comes first because size is king but remember that there is a difference between maximum work piece size and maximum carving area. The Shark's gantry is a much wider than both the worktable and the carving area so in effect, you will not be able to carve the full width of the work piece if that is essential to you.
For the Carvewright on the other hand, focus is placed on the work piece size which includes being able to carve up to the edge of the work piece itself, so you've got a carving area of about 14" x 11" which, from the carving area perspective at least, has the Carvewright taking the lead from Rockler.