Most Requested Topics
Special Deals
Free Woodwork Ebooks
RSS Feed
Table Saws
Details

Hits: 9807
Think your table saw is heavy? ... Try this granit top little gem at 467 pounds. Yes thats right, a granite top table saw. At first I wondered what would be the purpose of a granite top over steel, then it gradually began to dawn on me that first of all granite does not rust. Now if you live in Texas or New Mexico you don't have to worry so much about that but in the soggy west coast or the humid east coast rust is a real problem.
This "left tilting" table saw has a few features we really liked and Steel City is well on it's way to shaking up the market by bringing out some new and innovative features. First of all we liked the fence, yes there are are other very good fences out there, but we still liked this one. It is smooth, accurate and well built. We liked the position and size of the off / on switch. It is easy to find and easy to shut the saw down should things start going awry one day, with a BIG red paddle.
The entire saw base is enclosed except for a 4" dust port, so you really don't get a chance to see the trunion system, which is the real heart of any saw. We dug around and found a very well made, cast system that is mounted with about as much strength as one could imagine for a table saw, this system is not going to move on you once it is set.
Details

Hits: 11847
Although this unit can easily be classified as a portable tables, which are often skeptical about, we loved this Bosch table saw. The Bosch 4100 comes as a basic "worksite table saw", that is, you put it on a couple of saw horses or some other sort of bench, or you can purchase an optional two-wheel portable stand.
Lets talk first of all about the saw itself. Although the actual table top is not that large (22" x 29") it is still a good useable size. One of the features that sets this unit apart from some of it's competitors is the ripping fence. This unit has a very good, accurate fence system. And if it goes our of alignment, it is easy to re-set it. The quick-lock system of the fence holds if firmly in place and is also and adjustable feature. You can snug the fence down by adjusting the tightness level that suits you best.
Next we looked a blade changes, because as you know, we almost never use the blades that are supplied with tables saw, not even this Bosch. We discovered that after raising the blade to get better access to the 5/8 arbor nut, the locking mechanism was lever that locks the blade so that the wrench can be used to release the arbor nut holding the blade. The wrench for changing blades is conveniently and securely attached to the side of the table saw.
Details

Hits: 10876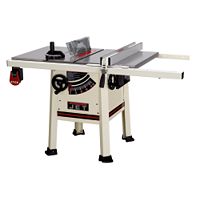 A friend of mine called me the other day "I need to buy an new table saw" he told me. "Why" I asked, "did you wear out your current one" (jokingly). "No, I gave it away to your brother-in-law". Now I have heard of lots of excuses to get a new table saw, but that was one of the better ones. "So I need to buy and new saw, what should I look for" he asked. Sure ... now I need to tell him everything he needs to know about buying a new table saw over the phone. Well ... here's what I told him ...
Details

Hits: 17538
For years many of the table saw blade manufacturers have been preaching that we should be using blade stabilizers on our table saw blades in order to get precision cuts. But what about the costs, the draw backs, and do we really need these?? Read on for the answer, you could be very surprised at what you will find ...
Details

Hits: 13890
If your saw is not equipped with a splitter or a riving knife you need to read this.
It is well known that a table saw's main role is to rip wood. Table saws were designed as tool to rip wood and that is what they are best doing, and that is what most of them are used for most of the time. The type of material you are cutting can make a big difference to your safety and the ease with which you cut wood, and to the actual wood you are cutting.
For example, if you are cutting material like plywood, MDF, hardboard, chipboard or any of the other "manufactured woods and materials" splitters or riving knives are not as critical, though they are still useful.
If on the other hand you are ripping natural woods like oak, maple, fir, pine, cherry, beech etc, for ripping these kinds of wood, whether kiln dried, green or in between, it is critical that your saw be fitted with a splitter or riving knife. If your saw does not have a splitter or riving knife you could be risking serious injury and poorer cuts and here's why.
Many of the natural woods woods have built in "tensions". The word "tension" within a natural wood simply means that these woods, when they are cut, they can often move on their own as they pass through the blade. This is because the blade is releasing these build in tensions.