Best wood for frame?
TigerFuYoung

Topic Author
TigerFuYoung created the topic: Best wood for frame?
I am a beginner in the woodworking world. I have made a few bows, a pull up bar, a stool, and a table saw from an old circular saw. I am looking to step out of the beginner wood world of pine and poplar. Someone asked me to make them a pmirror frame for a 40x50 mirror, and i dont want to use a basic wood. I want to use purple heart but i think im going to destroy my tools on it. I need some recommendations for better woods. And what kind of finish should i use. I only use Danish oil because i always make stuff come out beautiful with it, but i would be interested to try other finishes.
22 Oct 2014 20:53
#1
colin
colin replied the topic: Best wood for frame?
Sounds like you are making good progress TigerFu. For most woodworkers wanting to expand their tool line-up a table saw is probably the most often selected tool because it can do so many things. You can purchase new, or used and there are often some great deals on used ones, if you take you time and look around.

In terms of finishing Purple Heart, Danish oil or similar sounds just fine to me. There are tons of different products out there to choose from ... depending of course on what the item is used for, but a mirror would be perfect for that kind of an application.
22 Oct 2014 21:30
#2
Derek
Derek replied the topic: Best wood for frame?
Hi.
You have a few good choices in hard woods that you can consider. Maple, White Oak, Red Oak, Birch, Black Walnut just to name a few. I will guess that you are framing a 40" x 50" Mirror which is going to be a very heavy piece to secure to a wall or door so you should consider the size of the frame with this in mind as well.

Purple Heart will not destroy your tools but any cutting tool you use to prepare and shape your design must be sharp. I think you are looking for something really new to work with and I am going to recommend Black Walnut which is one of my favorites or Red Oak which is one of my favorites ... anyway, both of these woods are easy to work with and takes a natural finish such as your Danish oils very well if you do your part in the joinery and sanding departments, I think you will be quite satisfied. Consider using a wipe on poly urethane as a top coat or a spray lacquer both of which are made by Min Wax. Good luck and if you have any other questions you will always find someone here that can assist you in creating your project.

Derek
22 Oct 2014 21:57
#3
Glen
Glen replied the topic: Best wood for frame?
Purpleheart is a nice wood for what you want to do but keep in mind the purple is only there while being machined & sanded. Over time it will turn brownish.
Having said that I've made a few mirrors these last couple years & always use a quarter sawn wood. It is more stable & beautiful. The mirror you're making is a large mirror so you have more room for the frame to move, twist, & even bow. I'm certainly not a wood expert but I do know it moves.
Here's a 30" X 40" mirror I made last Winter from 1/4 sawn White Oak.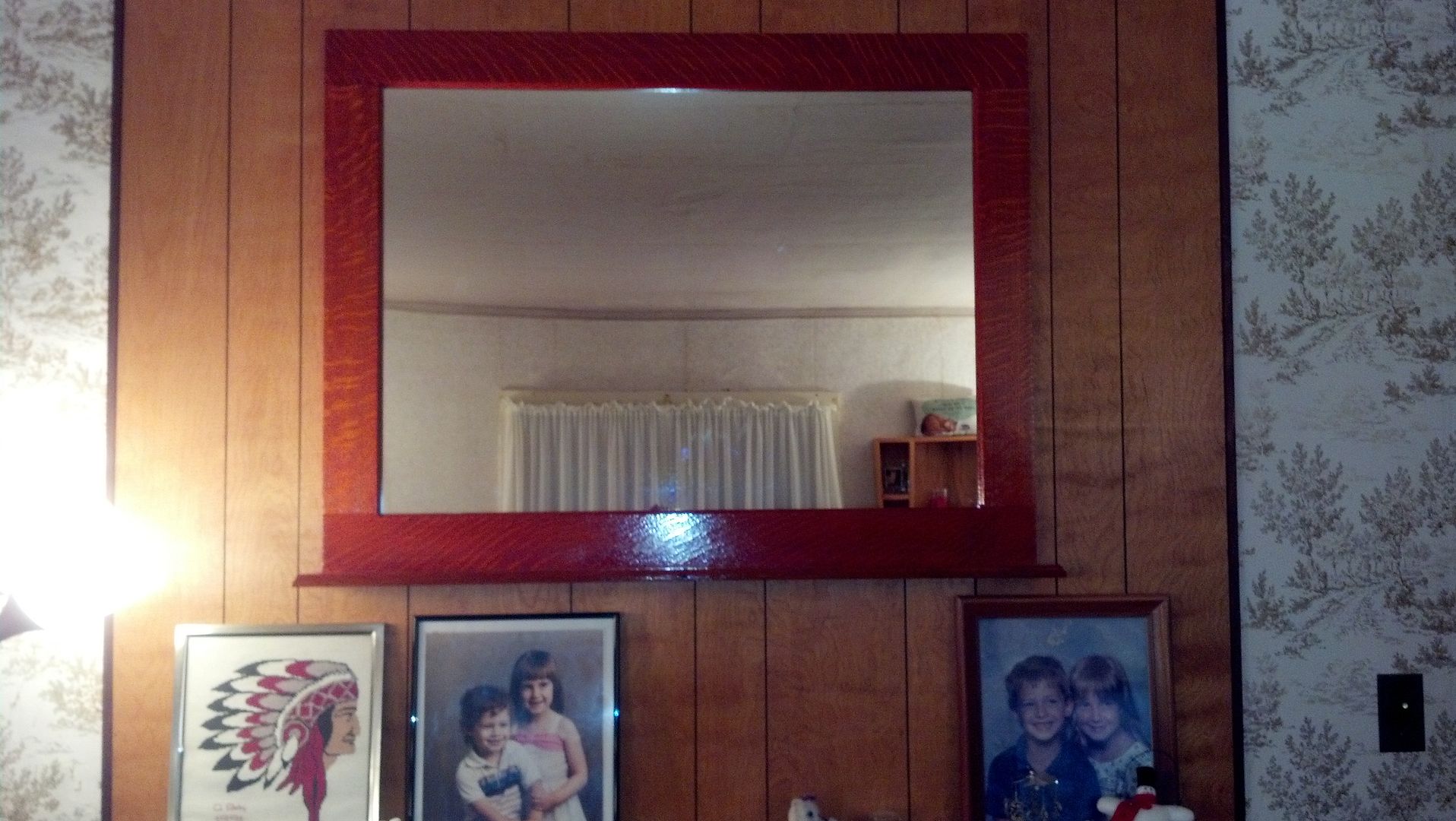 2 smaller quartersawn curly Ash mirrors.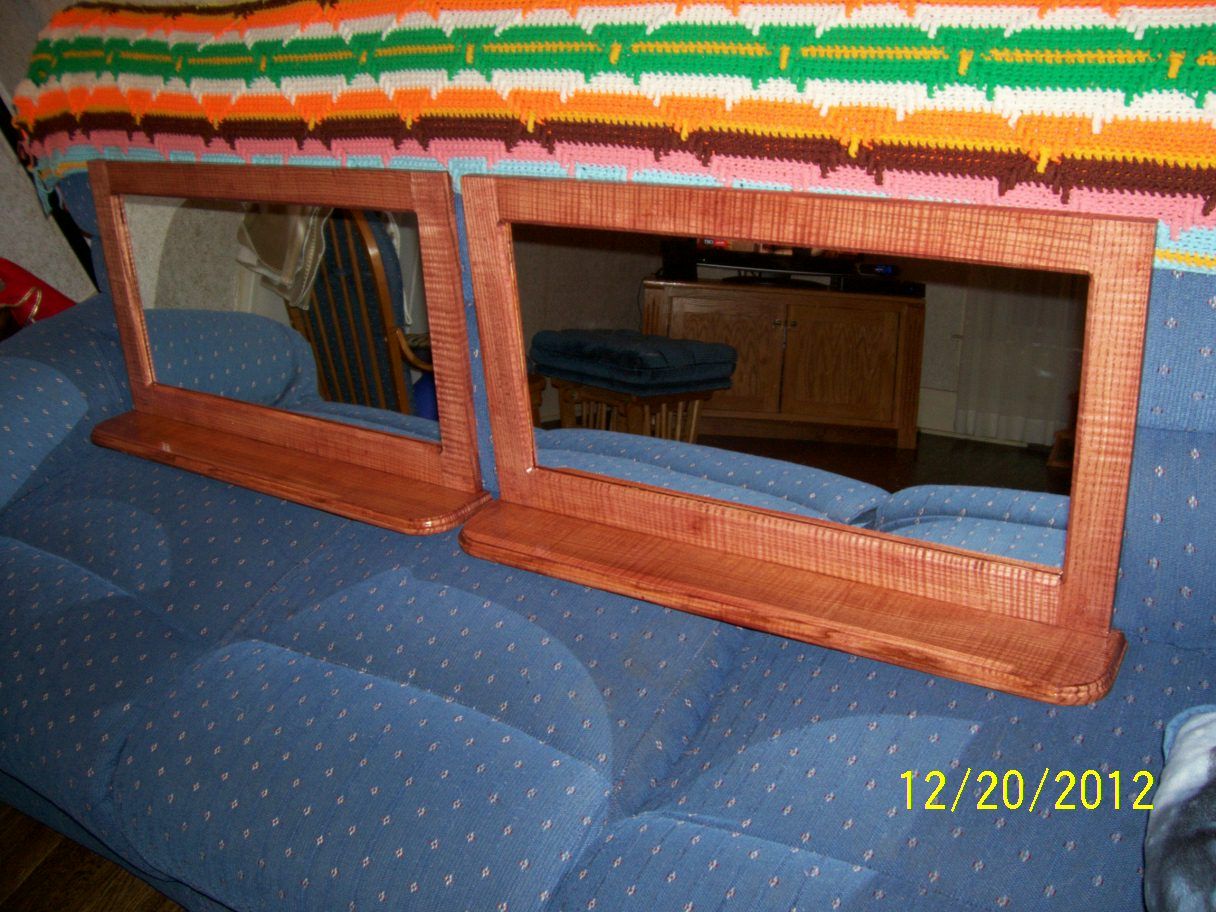 I hope this helps in some way.
17 Dec 2014 00:42
#4
eric422
eric422 replied the topic: Best wood for frame?
My favorites:
• African Mahogany
• Curly Maple
• Walnut
03 Jan 2015 22:29
#5